Our spectacular tour starts in Sarria, Lugo where you will walk the last 100 kilometers (about 62 miles) on El Camino de Santiago. This is the minimum walk you need to do in order to obtain the Compostela (the official certificate given by the Church after completing the walk).
The tour lasts 8 days in which you will have the opportunity to try the local gastronomy and enjoy our unique and historical hotels. The hotels have been carefully selected in order to meet all your needs: comfortable, historical and beautifully situated.
Join us for this truly unique and unforgettable experience!

Lenght of the tour
7 nights / 8 days
Difficulty: 2-3

Itinerary
Start point: Sarria, Lugo
Final Destiny: Santiago de Compostela



7 nights 8 days accommodation with full board in en suite accommodation



Private Van Support & Luggage transfer



A qualified personal English-speaker guide.



Pilgrim Information packs.



Maps, entry to museums, churches and other places of cultural interest.



A guided tour in Santiago de Compostela.



Access to a photographic tour.



Plane tickets.



Train or buses to the meeting point.



Airport taxes.



Visas.



Medical attention.



Personal shopping.



Telephone service.



Laundry service.



Drinks that are not included in the meals.



Tips.
Day 1. Meeting point in Ponferrada
Day 1. Meeting point in Ponferrada
Day 1. Meeting point in Ponferrada
We start our journey in Ponferrada, a point chosen for its excellent connections from Madrid, Barcelona and Leon.
Group introductions and a short welcome meeting will take place in Ponferrada where we will explain the itinerary and hand out an information kit about the trip.
Once the initial information has been shared, we will visit the village of O Cebreiro, a 30 minute drive away. O Cebreiro, one of the highest points of the Camino de Santiago, is a place of symbolic interest for pilgrims and used to be one of the Celtic villages. In O Cebreiro we will have the opportunity to try local Galician cuisine before continuing our route to Samos.
In Samos, the afternoon is spent visiting one of the most important monuments along the Camino de Santiago. The San Julian Monastery of Samos, founded in the 6th century, belongs to the Benedictine orders and was a very important Theology and Psychology school.
Afterwards, we will drive to Sarria, the biggest town between Ponferrada and Santiago the Compostela.Here, we will have an exquisite dinner while accommodating ourselves in order to start walking the next day.
Day 2. Sarria-Portomarin 22km or 14 miles / 6-7 hours
Our morning journey leads us into rural paths, past oak trees and chestnut trees, through small villages, like Barbadelo—with the spectacular church of Santiago—or the village of Ferreiros—an ideal place to stop for a rest or try a glass of local beer. Otherwise, practice your Spanish chatting with a local villager before arriving at Portomarin where we cross the bridge over the magnificent river Miño under which the old Portomarin use to be.
Day 3. Portomarín-Lestedo.
Day 3. Portomarín-Lestedo.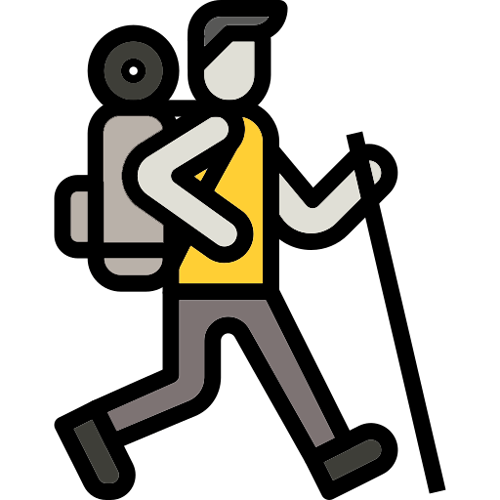 Day 3. Portomarin-Lestedo 20 Km or 13 miles / 5-6 hours
Following the now very familiar yellow arrows, we slowly trek through another beautiful forest of oak and chestnut trees until we arrive at the village of Castromayor—an ideal place to make a stop and have the first coffee of the day or maybe visit the Neolithic fortified settlement ruins that Castromayor is named after. Continuing the ascent to the village of Ligonde, and subsequently descend gradually through the village of Eirexe, we arrive at our hotel which is situated along the Camino; a unique and unbeatable stop and definitely a time to reward ourselves with a glass of local Galician wine.
Day 4. Lestedo-Melide 19,8km or 12 miles / 5-6 hours
Soon after departing from our hotel, we walk through the village of Palas de Rey entering into an area of exquisite forest known as the "Coto" a perfect place to first stop this day. Continuing along our way, we follow the very familiar yellow arrows to Leboreiro and the very impressive 13th century Santa Maria Church–another historic monument along the Camino. We cross the beautiful medieval Furelos bridge from where we can nearly see Melide—the land of markets. This is where we can taste octopus—another very typical, splendid Galician dish.
Day 5. Melide-La Calzada.
Day 5. Melide-La Calzada.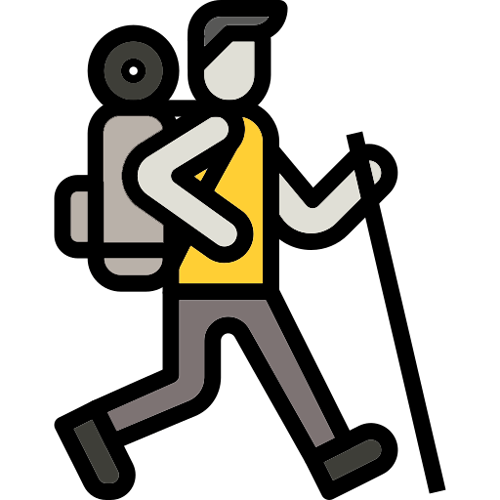 Day 5. Melide-La Calzada 20,35 km or 13 miles / 5-6 hours
Today we walk up and down through trails in the rural hills enjoying the smell of the surrounding eucalyptus, hiking through beautiful enclaves like that which form the river Iso in Rivadiso just at the entrance to Arzua. We finish this day in La Calzada, now feeling extremely close to the end of our pilgrimage.
Day 6. La Calzada-Lavacolla.
Day 6. La Calzada-Lavacolla.
Day 6. La Calzada-Lavacolla 21,27 km or 13 miles / 5-6 hours
Still walking through predominantly agricultural scenery, we will notice a vast growth in population and traffic as we get closer to Santiago. Continuing our walk down to Rua, we pass through the St. Irene chapel and nearly almost 3 km later, we hike behind the village of Pedrouzo. Moments later, we are once again surrounded by a forest with magnificent century old eucalyptus trees descending our steps to Lavacolla and ending here for the day. Almost there!!!
Day 7. Lavacolla-Santiago de Compostela.
Day 7. Lavacolla-Santiago de Compostela.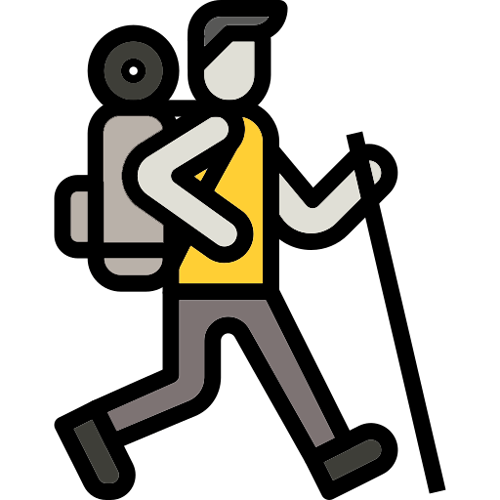 Day 7. Lavacolla-Santiago de Compostela 10km or 6 miles / 3 hours
Nearly finished, our last stage of the walk takes us to Monte do Gozo where, for the first time, we have our first much anticipated glimpse of the thrilling spires crowning the spectacular rooftop of the Santiago de Compostela Cathedral! At this point, it is only 4 km from the city center. Gradually we walk downhill into the city of Santiago, through the beautiful streets of the old town, to get to our desired epic finale—the impressive and unique Cathedral of Santiago de Compostela!
Day 8. Santiago de Compostela 😃
Day 8. Santiago de Compostela 😃
Day 8. Santiago de Compostela.
After a much deserved leisure morning, we gather for a 10 am guided tour of the breathtaking Cathedral, and its surrounding areas, with a local guide from Santiago. Finally, we finish with the all-impressive 12pm mass within the Cathedral de Santiago uniting with pilgrims from allover the world celebrating together what this journey has personally meant for each of you.
Thank you very much for letting us guide you on this magnificent journey and Buen Camino!!!!