FREQUENTLY ASKED QUESTIONS
Below you will find some frequently asked questions and answers about The Way of St. James. If you do not find an answer to your question or require a more detailed response to one of the questions listed here, please feel free to contact us – we will be happy to help!
What is The Way of St. James?
It is a route undertaken by pilgrims in order to arrive to the Cathedral of Santiago de Compostela in La Coruña and visit the tomb of St. James the Apostle, which was discovered between the VIII and IX century during the kingdom of Alfonso II.
Where does The Way of St. James start?
In any place, at the door of your house or wherever you are at this moment – you can start walking with an intention to arrive to Santiago de Compostela, a Galician city at the northwest part of Spain, and you will be on The Way of St. James.
In order to obtain "La Compostela" you'd have to walk at least 100 kilometers of the entire route.
Which route should I chose?
Over the centuries, the most popular routes have been: the French Way,  the Northern Way,  the Tunnel Way, the Silver route, the Aragonese Way, the Portuguese Way and the English Way. The most popular is the French Way, although all routes are well indicated. We will undertake the French Way, which commences in Sarria, Lugo – seven journeys away from the Santiago de Compostela.
Which are the best dates to go on The Way of St. James?
Any season is appropriate for undertaking this journey. April, May, June, September and October are particularly recommended, since there are fewer pilgrims and milder temperatures.
You can find more information here.
What will be the weather like?
The last 100 km of The Way stretch in the region of Galicia, in the northwest of Spain, which has a mild and rainy climate due to ocean influence. Due to its geographic features it is possible to find several micro-climates along the route.
Average temperatures vary between 6ºC in winter and 20ºC in summer. You can check the weather forecast here.
Las temperaturas medias a lo largo del año oscilan entre los 6 grados en invierno y 20 grados en verano. 
What kind of gear should I bring along?
You will receive a list with our suggestions depending on the season.
Should I undergo any physical training?
The Way is a route that is accessible for the vast majority of people. You do not have to be an athlete or be in perfect shape in order to go on the route. Nonetheless, in addition to spiritual preparation for the successful pilgrimage, it is recommended to be in adequate physical condition and walk several days in the same shoes which will be used during pilgrimage.
What happens if my peers are in a different physical condition than me?
Camino Tours provides an opportunity to walk at one's own pace and thus enjoy the route even more. Our logistics arrangements allow all participants to have the same advantages and considerations, regardless of whether they arrive first or last.
We believe that the main objective is to enjoy The Way, so it is important that you go at your own pace.
How many people are in each group?
In order to ensure the quality of services, group size is limited to 10 people. 
Singles trips are designed only for single people?
No. Singles trips are designed  for all travellers who wish to organize the trip themselves, but also want to enjoy the company of fellow travellers who are in the same situation.
El Camino Tours offers a possibility to travel in small groups and thus benefit from all advantages of group travel
What is a typical day on The Way like?
A journey along The Way begins after having breakfast in a hotel. Sometimes the itinerary will start directly at the hotel and on some other days we will make a brief transfer in a mini-bus until the starting point.
If the guide hasn't walked with you, a meeting point will always be scheduled at mid-day in order to make sure that everyone is well and address any inquiries. Lunch break is scheduled 3 or 4 hours after the beginning of the day's journey. Lunch is served as an exclusive gourmet picnic arranged exclusively by El Camino Tours at spectacular locations along The Way. Of course, lunch is prepared from local and fresh products.
After lunch, there will be another two hours of walking in order to finish the route planned for that day. Sometimes the route will finish at the door of the hotel and on some other days we will make a brief transfer in a mini-bus until the hotel.
The hotel will provide you with a well-deserved rest, where you can relax after the day's trip.
The day is concluded with a dinner at the selected hotel or some local restaurant with an opportunity to taste local products and wine.
How much do we have to walk every day? What is the soil like? Are there any changes in altitude?
Daily itinerary is about 20km or about seven hours of walking.
The soil can be more or less stony; the route includes paths, rural roads and streets.
Part of Galicia's charm has to do with its numerous valleys and mountains. One has to be prepared for continuous ascent and descent, although there won't be any major changes of altitude.
Do I have to go with a backpack? What happens if I get tired?
Your luggage will be transported from one accommodation to another by the auxiliary car of El Camino Tours. You should only carry a small backpack for some personal documents (National ID, credit card, cash, health card, etc.), water, photo camera, your record book and some socks.
Auxiliary car will accompany us throughout the entire route in order to cover any needs that may arise. If you get tired, experience any physical issues or no longer wish to walk – you can count on our support!
Is there any possibility that I'll get lost? What do the yellow arrows mean?
It is practically impossible that a pilgrim gets lost. There are a lot of books and reference materials about the route on the market. Villages are located in close proximity to one another and it is very likely that you will see other pilgrims from all over the world who are undertaking the same journey.
Moreover, each day El Camino Tours will provide you with a map of the route planned for that day.
In addition to being safe, the route is well indicated with yellow arrows. You will easily find these symbols along the entire Way of St. James.
What is the accommodation like?
Accommodation will be provided in rural homes and royal XV century hotels with a lot of charm and history and also the comfort of a four-star hotel. Each room has a private bathroom.
What is the food like?
The food will be another thing to remember about this trip. Galicia is known for its gastronomy, both for its quality and quantity of meals offered. You will sample good wine and the best and freshest products of the region. From the garden – straight to the table!
What are the tasks of a guide? What can I expect from a guide?
A guide is an individual in charge of ensuring that your trip will be seamless.
All El Camino Tours guides are qualified and trained to organize your daily itineraries, taking care of all logistics, translations, interpretations and providing all necessary information so that you could enjoy your trip.
A guide won't walk the entire route with the group, although he or she will be making sure that you and your peers are doing well at all times.
ARRIVAL TO SANTIAGO DE COMPOSTELA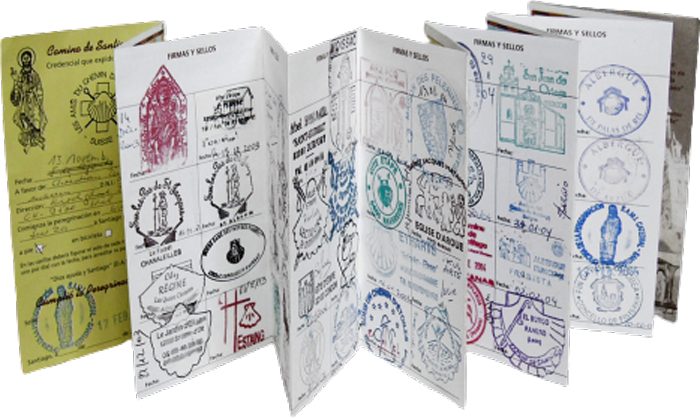 What is "La Compostela?"
"La Compostela" is a document granted by the Cathedral Chapter of Santiago to the visitors who have concluded their pilgrimage route until the city of Santiago de Compostela to venerate the remains of the Holy Apostle, located under the city's Cathedral.
It is granted if the trip has been made for religious or spiritual reasons and if a minimum distance of 100 km has been covered on foot or on horseback or 200km on a bicycle.
What is "La Credencial?"
"La Credencial" is a document used to prove that you have actually walked the required distance for obtaining La Compostela. This document contains the seals, dates, cities and villages visited by a pilgrim, as well as beginning and ending dates of the trip.
We will provide you with an official form for pilgrims on 14 pages, printed on a cardboard paper and folded as an accordion.
What happens if I don't walk The Way due to religious or spiritual reasons?
If you chose to do the journey for reasons other than religious or spiritual, such as athletic, cultural or touristic, you will not get "La Compostela".  Instead, you will obtain a diploma which will certify that you have completed the European World Heritage itinerary.
Either certificate will be chosen by you, in a private and personal manner, at the Pilgrimage Office of  Santiago de Compostela.
Should I get travel insurance?
El Camino Tours highly recommends you to get travel insurance, since it can be of great help if any issues occur during your stay abroad. Please carry a copy of your insurance with you at all times.
Look for a reputable international insurance provider for your policy. We recommend:
Is there any extra taxes or local payments that I'll be obliged to make?
No. El Camino Tours will not charge any type of local payments or additional extra fees.
If I travel by myself, do I have to share a room or could I use a single room? Is there an extra fee for staying in the individual room?
Our prices are calculated based on double room occupancy. Depending on your preferences and circumstances, El Camino Tours can look for a traveller in a similar situation as you, who'd be willing to share a double room with you. If you prefer a single room, we can arrange it for a one-time supplement fee of 200 euros. 
Can I make a reservation from my vacation with El Camino Tours through my travel agent?
Yes. El Camino Tours accepts reservations from reputable travel agencies. Please provide our contact information so that your travel agent could get in touch with us and successfully make your reservations.
Links of interest to travellers